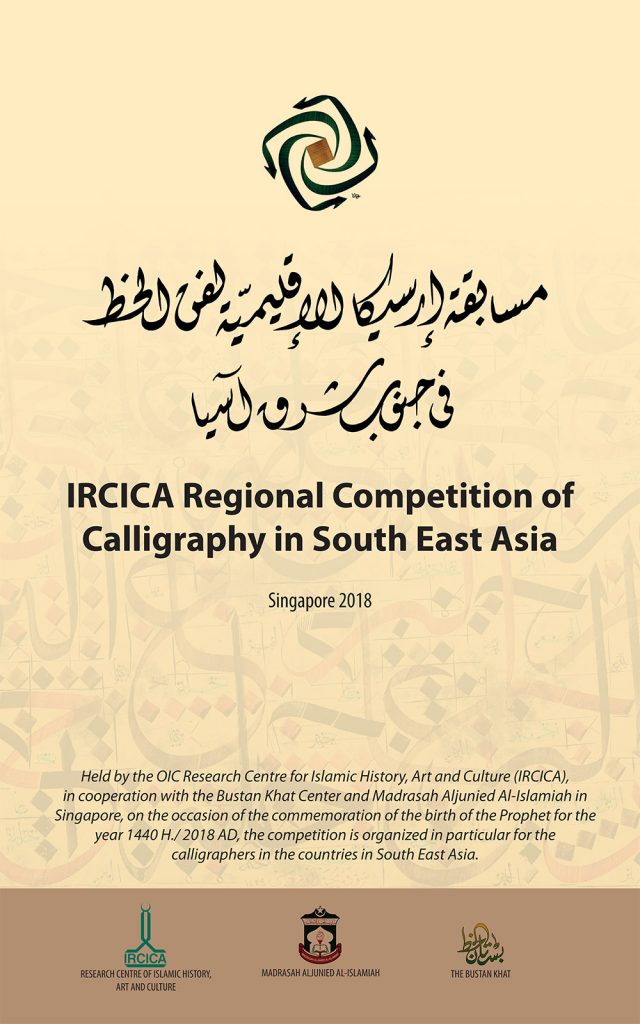 English

IRCICA Regional Competition of Calligraphy in South East Asia 2018

We are pleased to announce the 1st regional competition for South East Asian calligraphers organised by IRCICA (Research Centre of Islamic History, Art and Culture, Istanbul) in collaboration with The Bustan Khat and Madrasah Aljunied Al-Islamiah (Singapore).

Registration for this competition is hereby open until the end of July 2018 and we would like to invite all Islamic/Arabic calligraphy enthusiasts to participate in this competition.

For more information about this competition, please download the PDF booklet available here. Registration form can be submitted via email to competition@thebustankhat.sg.

Melayu

Peraduan Kaligrafi Serantau Asia Tenggara anjuran IRCICA 2018

Kami berbesar hati untuk mengumumkan Peraduan Kaligrafi anjuran IRCICA (Pusat Kajian Sejarah, Kesenian dan Kebudayaan Islam, Istanbul) dengan kerjasama The Bustan Khat dan Madrasah Aljunied Al-Islamiah yang diadakan buat julung kalinya untuk para ahli kaligrafi dari negara-negara Asia Tenggara.

Dengan ini, kami mengumumkan bahawa pendaftaran bagi penyertaan peraduan ini telah pun dibuka sehingga akhir Julai 2018. Di kesempatan ini, kami ingin mengalu-alukan penyertaan penggiat kaligrafi Islam/Arab untuk turut sama dalam peraduan ini.

Untuk mengetahui lebih lanjut, sila muat turun booklet PDF di sini. Sebarang pertanyaan dan penyerahan borang penyertaan boleh dilakukan menerusi emel ke competition@thebustankhat.sg

العربية

مسابقة ارسيكا الإقليمية لفن الخط في جنوب شرق آسيا

(يسرنا دعوتكم للمشاركة في مسابقة فن الخط في جنوب شرق آسيا تحت رعاية ارسيكا (مركز الأبحاث للتاريخ و الفنون و الثقافة الإسلامية ، اسطنبول) بالتعاون مع مركز بستان الخط و مدرسة الجنيد الإسلامية (سنغافورة

.وبهذا نعلن تم افتتاح فرصة التسجيل لهذه المسابقة حتى نهاية شهر يوليو 2018. وندعو لكل المتحمسين في فن الخط الإسلامية/العربية للمشاركة في هذه المسابقة

  (للمزيد من المعلومات يرجى تنزيل كتيب المسابقة (هنا

:و يمكن ارسال استمارة المشاركة عبر البريد الالكتروني في

competition@thebustankhat.sg .