Ustazah Siti Nurhidayah Rifa'ie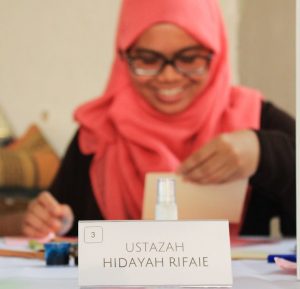 3 years experience in teaching Arabic Calligraphy (since 2014).
Graduate of the Faculty of Islamic Jurisprudence, Al-Azhar University, Egypt.
Licensed in 3 Arabic Calligraphy Scripts: Riq'ah, Diwani & Diwani Jali.
Participated with 5 artworks in arabic calligraphy exhibition organised by the Sharjah Department of Museums, Sharjah 2016.

Participated with 2 artworks in Arabic Calligraphy Exhibition by ASEAN students in Egypt 2015.